Synopsis
Paddling the Flambeau River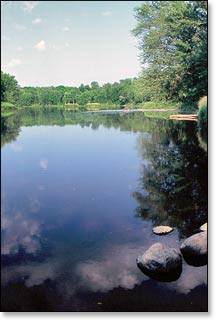 Most of the North Fork and the lower portion of the South Fork are surrounded by the Flambeau River State Forest. First established in 1930 with 3,000 acres set aside for public ownership, the State Forest has grown to more than 90,000 acres creating mile after mile of remote and wild, scenic beauty. This is one of the largest, most undeveloped public-use areas in Wisconsin.
The Flambeau River North Fork is one of the more popular rivers in Wisconsin for both single-day and multi-day canoe and kayak trips, and is a suitable destination for paddlers of all skill levels. The Flambeau River South Fork has a larger number of difficult rapids and is better suited for more experienced canoers and kayakers.
Paddlers will find the second and third segments (FN2 & FN3) of the North Fork to be mainly flatwater with some riffles and low hazard rapids. The first and fourth segments (FN1 & FN4) feature long stretches of fun class 1 and 2 rapids, especially after Hervas Camp Landing in segment FN4, where Cedar Rapids and Beaver Dam Rapids are located. The first and second segments (FS1 & FS2) of the South Fork feature numerous class 1 and 2 rapids and a few long stretches of flatwater. The third segment (FS3) of the South Fork is for advanced and expert paddlers only; Little Falls, a thundering class 4, and Slough Gundy Rapids (class 2-3), are challenging, scenic whitewater runs.
The North Fork is a very popular canoe camping river with 14 designated camping areas along the river. Each camp has two to three separate sites with a fire ring and a table at each site. The sites are free for paddlers and are available on a 'first-come first-serve' basis. You are allowed to stay one night in each camp.
Sugar and red maple, red oak, yellow birch, white ash, mixed pine, hemlock, and beautiful stands of quaking aspen dominate the forest surrounding both forks. Abundant wildlife includes bald eagle, osprey, white-tailed deer, black bear, raccoon, fisher, and otter. Wolves are rarely seen but occasionally heard crooning at night.
Season
Generally good paddling throughout spring, summer and fall.
Less experienced paddlers should avoid the river during the winter melt-off in early spring, and after a sustained heavy rainfall. High water levels can produce dangerously high waves in several of the rapids. Call the WDNR State Forest Office at 715.332.5271 for water level information.