Synopsis
Paddling the Peshtigo River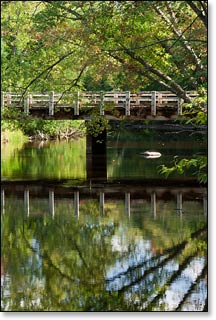 The Peshtigo River is fairly well-known amongst whitewater kayakers and rafters throughout the midwest. The segment named 'Roaring Rapids' (P5) is a four mile stretch of nearly continuous intermediate and advanced whitewater that is a virtual magnet for advanced-level paddlers looking for an exciting challenge. The popularity of this segment is evident by the presence of several large outfitters located in the immediate vicinity, providing: shuttle services, canoe and kayak rentals, guided rafting trips, camping and fun outdoor adventures.
Another fun and challenging whitewater run is Segment P3, from Burnt Bridge to Goodman Park. This twelve mile reach features: Upper Dells Rapids (class II), Michigan Rapids (class III), Dells Rapids (class III), Taylor Falls (class III) and Strong Falls, a technical class IV. There are also several pitches of riffles, class I and class II+ rapids. A large number of access points in P3 provides plenty of choices for which rapids you want to run. The 'runnability' of this segment is best when river levels are medium to high. The rapids are scrappy in low water conditions.
Quietwater enthusiasts will enjoy the segment between Big Joe Landing and CCC Bridge (P1), where the river winds through a remote wilderness setting of dense northern lowland forest. Wildlife is especially abundant in this stretch. South of the CCC Bridge (P2) the river flows through more beautiful wilderness scenery with mixed pine and cedar groves frequently covering the banks. This is a fun run for novice whitewater enthusiasts that features several long stretches of class I and class II rapids.
The forest surrounding the river consists of that unique and scenic, northwoods blend of hardwoods and conifers; ash, popple, birch, aspen, maple, oak, red pine, white pine, hemlock, spruce and tamarack are common. Forest wildlife includes: beaver, otter and white-tailed deer along with the occasional black bear.
Two of the most scenic county parks in Wisconsin are located on the river in Segment P4, at Goodman Park and McClintock Park. In addition to their shaded campgrounds, both parks feature beautiful day-use areas with excellent trails and scenic footbridges leading to small, picturesque islands.
The water tends to have a dark color due to the numerous tamarack swamps surrounding the upper Peshtigo. The dark water can make it difficult to spot submerged rocks in several of the rapids.
Camping
Canoe/Kayak Camping in the Chequamegon-Nicolet National Forest
The National Forest Service maintains several, primitive canoe/kayaking campsites in segments P1, P2 and P3 in the Chequamegon-Nicolet National Forest. Segment P1 features a small, three-site campground at Big Joe Landing. There are two more campsites, 18 miles downriver at Burnt Bridge Landing (P2 and P3), one on each side of the river. Segment P3 has a campsite at Burton Wells Bridge. All of the campsites are vehicle accessible and all are available on a first-come, first-served basis.
Canoe/Kayak Camping for Advanced Whitewater Enthusiasts
If you're comfortable running class III-IV rapids, then the Peshtigo River is the only river in Wisconsin that offers intermediate-to-advanced whitewater camping trips for experienced paddlers. An excellent 3 day / 2 night trip includes segments P3, P4 and P5. View any one of these segment webpages for more details.
Marinette County Parks Campgrounds
The Marinette County Park System has two beautiful, shady family campgrounds on the Peshtigo River at Goodman Park (P3 and P4) and McClintock Park (P4). Both parks also feature excellent day-use areas with hiking trails and scenic footbridges that span the river. You can reserve several sites at the Goodman Park campground.
McClintock's campground sits in a very scenic setting a half-mile south of its day-use area and the sites are available on a first-come, first-served basis.
Private Campgrounds and Outdoor Adventure Resorts
All of the local rafting/shuttle services have excellent campgrounds. Three offer modern cabins: Kosir's, Thornton's and Wildman's Adventure Resort. There are links to their webpages on the Local Area Directory page. Wildman and Kosir's are both located on the Peshtigo in the "Roaring Rapids" segment (P5). Both are outdoor adventure and rafting resorts that specialize in guided rafting trips on the Peshtigo and Menominee Rivers (Thornton's also offers trips on the Menominee). The Wildman Whitewater Ranch is located on the right bank just below Horserace Rapids, and Kosir's Rafting Resort is on river-left just below the Highway C Bridge.
Chequamegon-Nicolet National Forest Campgrounds
The upper reaches of the Peshtigo River (P1-P3) flows through the Chequamegon-Nicolet National Forest. Consequently there are several National Forest Campgrounds located within a short driving distance of the river. Laura Lake with 41 sites, and Morgan Lake with 18 sites, are close to segment P1. Both offer beautiful lakeside scenery and northwoods seclusion. Look and listen for loons in the early mornings and late evenings. The quiet, Bear Lake Campground has 27 secluded sites "situated along a wooded shore and ridge with outstanding views to the lake". All three campgrounds are available on a first-come, first-served basis.
The closest campground with reservable sites is at scenic Boot Lake Campground, where all 34 sites are reservable. "This campground overlooks a scenic 263-acre lake. Bask in the sun on the beautiful beach and then take a relaxing dip in the lake, or enjoy the fishing. Boot Lake contains walleye, northern pike, bass, musky, and panfish. In addition, several nearby streams offer excellent trout fishing, and the Wolf River provides fishing, rafting, and first-class canoeing opportunities. The Jones Spring non-motorized area is nearby, and offers hiking, hunting, and cross-country skiing. Generally, use at this popular campground is heavy throughout the summer." _Source: US Forest Service
Wisconsin State Forest/Park Campgrounds
Governor Thompson State Park and the Peshtigo River State Forest are both less than a 25 minute drive from Segment P5, "Roaring Rapids". Governor Thompson State Park has 2,800 acres of forest and lakes along with six miles of undeveloped shoreline on the Peshtigo River's Caldron Falls Flowage. The park also features over 16 miles of hiking trails and a family campground with 106 campsites in a scenic wooded setting. 103 campsites are reservable.
The Peshtigo River State Forest is Wisconsin's newest state forest and features over 12,000 acres of beautiful forests and scenic waters. The Old Veteran's Lake family campground sits in an hardwood forest next to a small lake and offers sixteen campsites. Twelve are reservable during the summer.
Season
The best paddling is often in the spring and early summer. After the spring melt-off, rainfall has a major impact on river levels. Even a moderate rainfall can cause river levels to rise dramatically for a few days. These changing water levels alter the river's character as well; during the summer and fall, what one day may be a scratchy class II boulder garden can become a roaring class III rapids, especially above the Rat River confluence near the end of Segment P4.
If you are planning a trip on the Peshtigo during mid-summer or later, you should contact one of the local outfitters for water levels before you embark.