Peshtigo River

(P1) Big Joe Landing to CCC Bridge
, Wisconsin Trail Guide
Trail Facts
| | |
| --- | --- |
| Distance: | 8.9 miles |
| Skill Level: | Easy |
| Whitewater: | Class I |
| Approx. Paddle Time: | 4-5 hours |
| Elevation Drop: | 30 feet |
| Average Gradient: | 3.4 fpm |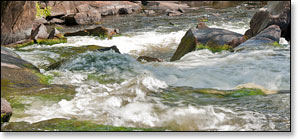 Synopsis
Trail Review
This remote segment lies within the boundaries of the Chequamegon-Nicolet National Forest. The river runs narrow and slow through a lush forest with a wonderful mix of hardwoods and conifers. The majority of this segment is flatwater.
From Big Joe's Landing the river is slow and riffley for the first mile until Camp 8 Rapids, a rocky class I. After the rapids, the river soon passes under the Highway 8 Bridge and then flows through the village of Cavour and under the Highway G Bridge. Another mile and a half downstream and the river flows under a railroad bridge. This is the last sign of civilization you will see for the next 4.5 miles.
...Awesome!
South of Cavour, the river flows through the Camp 3 Lake State Natural Area.. A marshy forest where Silver Maple is dominant along the riverbanks. Oxbows, islands, spring-fed backwaters and sloughs are what you will encounter as you glide through a lush forest with dense underbrush covering muddy banks. Tree branches often arch over the river to create a scenic, tunnel-like effect. Downed trees are common, often causing paddlers to maneuver, duck, and sometimes portage around an obstruction.
The Wisconsin DNR offers the following description of this scenic area:
"Camp Three Lake features a unique silver maple floodplain forest. ...The floodplain forest is dominated by large, unbranched silver maple (up to 28 inches in diameter) with a characteristic floodplain understory including poison ivy, calico aster, Virginia wild-rye, gray-headed coneflower, blue skullcap, sensitive fern, and stinging nettle. The groundcover is often thick with grasses and sedges. Exposed drying mud with almost no vegetation, both with and without canopy cover, is frequently found..."
If you're looking for that "small river, back-country" experience, then this trip is definitely for you!
Canoe/Kayak Camping
This entire segment runs through the Chequamegon-Nicolet National Forest. Big Joe Landing (the put-in) has 3 rustic campsites. Each site has a firepit and picnic table and there is one pit toilet. There is no drinking water.
Season
This reach is more navigable than the segments downstream when river levels are low. Camp 8 Rapids may be scrappy during dry spells, but unless levels are really low, you should have no problems getting through. Contact one of the local outfitters for river conditions before you embark.
River Level Information
The river gauge referenced below is about 35 miles downstream from this segment. So, while this gauge provides a good indication of the general height of the river, the reading should only be considered as an estimate of the conditions in this reach. At higher levels, strainers and deadfall become more of a hazard when present.
River Gauge Location: USGS Gauge near Highway C Bridge (Wabeno)
Suggested Minimum Level: 4.2 feet
Suggested Maximum Level: 6.5 feet
USGS Website: USGS Gauge @ Highway C Bridge