Peshtigo River

(P4) Goodman Park to Farm Dam Landing
, Wisconsin Trail Guide
Trail Facts
| | |
| --- | --- |
| Distance: | 9.8 miles |
| Skill Level: | Novice |
| Whitewater: | Class II |
| Approx. Paddle Time: | 4 hours |
| Elevation Drop: | 45 feet |
| Average Gradient: | 4.6 fpm |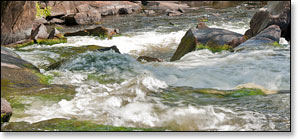 Synopsis
Trail Review
Even though Strong Falls, a class IV rapid, is located at the start of this segment, you don't have to run the falls if you don't want to. Most whitewater kayakers who run the Falls either: do only the Falls or, run them as a finale to the previous segment. Either way there is an easy put-in just below the Falls at Goodman Park, so don't be intimidated by their presence! Bring your camera so you can photograph the Falls and maybe, possibly, lie to your gullible friends about how thrilling and awesome your trip was!
Below Strong Falls, the river runs a little wider than before through a northern hardwood and conifer forest. Small hills occasionally border the river with steep, tree covered slopes.
Apart from brief periods of riffles, this segment is mostly flatwater with two low-hazard rapids worth noting: Skinners' Elbow, a class I-II; and scenic Wilson's Rapids, a class II.
The combination of: a beautiful river, limited development, and very little whitewater creates a great, scenic run for novice paddlers. This trip is highly recommended when river levels are adequate!
Another of Marinette County's excellent parks is located in the middle of this section. This scenic and well maintained day-use area is a nice place to get out and stretch your legs, rest a little, and have a bite to eat. In fact if you're looking for a pleasant afternoon float with a nice break in the middle, this trip is highly recommended!
Canoe/Kayak Camping
River Camping for Novice Paddlers
The Marinette County Park System has two beautiful parks on the Peshtigo River in this segment: Goodman Park (put-in) and McClintock Park. Both parks feature scenic day-use areas and hiking trails with footbridges that span the river. Each park also features a small campground with river access. You may reserve sites at the Goodman Park Campground.
All four of the local rafting/shuttle services also have excellent campgrounds. All are located on, or very close to, the Peshtigo River. There are links to their webpages on the Local Area Directory page.
River Camping for Advanced Whitewater Enthusiasts
If you're comfortable paddling class III-IV rapids, then the Peshtigo River is the only river in Wisconsin that offers the opportunity for whitewater camping trips for intermediate and advanced level paddlers. An awesome 3 day / 2 night trip would feature segments P3 through P5. Reserve a campsite for your first night at the Goodman County Park Campground, and camp your second night at the McClintock County Park Campground.
So, here's Day One (P3): put-in at Burnt Bridge Landing and spend the day running the following rapids: Michigan Rapids (class III), Upper Dells Rapids (class II), the Dells Rapids (class III), several pitches of fun class I and II rapids, a stretch of scenic flatwater, Taylor Falls (class III), and Strong Falls (class IV). Camp your first night at Goodman Park.
Day Two (P4): Day two may be kind of boring since there's no serious whitewater until "Roaring Rapids" further downstream. So, after breakfast, run Strong Falls again if you like, and/or take a stroll along Goodman Park's scenic riverside trails and boardwalks. After lunch, pack your gear, then paddle the easy four-mile trip to McClintock County Park where you can stretch your legs and spend some time exploring the trails and island in the park's scenic day-use area. Jump back into your kayak and paddle the short 1.3 miles to the beautiful McClintock County Park Campground, where you'll camp your second night.
Day Three (P4 and P5): This is the BIG DAY! Roaring Rapids! ...Okay, so first you'll have to paddle about 4.4 miles of flatwater and low-hazard whitewater... Stop for a snack (or lunch) at the Farm Dam Public Landing at Otter Creek. If you've parked a vehicle here, get rid of all your camping gear because the real fun is about to begin! The next 5.1 miles offers some of the best class III to class IV whitewater in the entire midwest. When river levels are medium-to-high, the rapids in this segment are awesome! Named features include: First Drop (class III-IV), Second Drop (class III), Third Drop/Joey's Hole (class III), Five Foot Falls (class III), Horserace Rapids (class III-IV), and finally, S-Curve Rapids (class III). Takeout at Kosir's at County High Highway C, or at the public boat landing at WPS Landing #12.
On it's own, this is a scenic, fun, challenging, multi-day intemerdiate/advanced-level whitewater river trip. However, if you're planning on an extended whitewater trip out west, like the Grand Canyon or Salmon River, the 'Pesh' provides an excellent prooving-ground for testing your skills and preparing you for some of the challenges of whitewater kayak camping.
All four of the local rafting/shuttle services offer excellent campgrounds and cabins. All are located on, or very close to, the Peshtigo River. There are links to their webpages on the Local Area Directory page.
And here's one final thought... If your looking for a great opportunity to test that new "Whitewater Crossover" kayak you've just bought, then here's your chance. Dagger, Jackson Kayak, Wavesport and Pyranha all offer excellent kayaks suitable for whitewater camping trips on the Peshtigo River.
Season
This segment is best run from late spring through mid-summer, and after a sustained rainfall from mid-summer through fall. Contact one of the local outfitters for river levels before you paddle!
River Level Information
The river gauge referenced below is about 4.6 miles downstream from this segment. This gauge should provide a fairly accurate indication of conditions in this reach. At higher levels, strainers, and deadfall laying across the river become more of a hazard.
(Numbers in parenthesis reference the Paddler's Gauge at Highway C)
River Gauge Location: USGS Gauge near County C Bridge (Wabeno)
Suggested Minimum Level: 4.5 feet
USGS Website: USGS Gauge @ Highway C Bridge
Estimated Difficulty at Gauge Flow
Below
4.5 feet
(0 - 6) Paddling not recommended.
4.5 feet
to
5.0 feet
(6 - 12) Low runnable flow. Some rapids & riffles may be scrappy at the lower end of this range, though all rapids should be navigable.
5.0 feet
to
5.8 feet
(12 - 22) Medium runnable flow. Should be excellent paddling conditions all-around.
5.8 feet
to
6.5 feet
(22 - 30) High runnable flow for most novices to run comfortably. Skinner's Elbow is class II. Fast current & larger waves developing at Wilson's Rapids which is approaching class II-III at high end of this range.
6.5 feet
to
7.5 feet
(30 - 42) High runnable flow. Novice paddlers should avoid the river. Skinner's Elbow is strong class II. Wilson's Rapids are wavy & fast class II-III.
Above
7.5 feet
(Above 42) Rare, unusually high flows. Exercise caution if you paddle the river in this range. Mistakes compound quickly.