Peshtigo River

(P5) "Roaring Rapids", Farm Dam Landing to WPS Landing No. 12
, Wisconsin Trail Guide
Trail Facts
| | |
| --- | --- |
| Distance: | 5.2 miles |
| Skill Level: | Intermediate |
| Whitewater: | Class III-IV |
| Approx. Paddle Time: | 3-4 hours |
| Elevation Drop: | 176 feet |
| Average Gradient: | 34.5 fpm |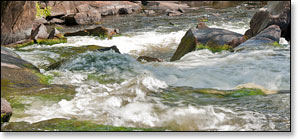 Synopsis
Trail Review
Welcome to playboaters paradise! When river levels are flowing within a certain range, the "Roaring Rapids" segment of the Peshtigo River provides a fantastic whitewater experience, almost 5 miles of continuous class II to class IV rapids with many fun waves, holes, eddies and chutes. This is likely the premier whitewater run in Wisconsin for advanced-level kayakers and guided rafting trips (you don't have to be 'advanced' to go on a guided rafting trip! In fact, you don't even have to be a 'novice').
From the putin at Farm Dam Landing, the river starts out wide and shallow with a rocky, 200 yard-long rapids begining just downstream. Shortly after, the river bends left and rumbles through a mile-and-a-half of continuous class II boulder fields and rapids.
A small clearing on both sides of the river is called 'Area 51' by the locals; so named because of the small numbered sign on the riverbank that marks a gas pipeline. First Drop Rapids, a class III-IV, is about 80 yards below the clearing. First Drop is a series of three ledges with a big sidecurler down the center. Oftentimes, kayakers (and occasionally rafters) who hit this wave in medium to high flows end up flipping and swimming. The challenge for many, is to hit the wave and not flip. (Some boaters flip on purpose, it's a short wavy swim to a calm pool below the rapids).
First Drop is followed by Second Drop Rapids, a class III that is less technical. This is followed by a long stretch of class II whitewater which extends through several bends. Watch for a small rocky island in the middle of the river; Third Drop Rapids - a class III - is just downstream and should be scouted! Do so from the right bank. There is an infamous wave here called 'Joey's Hole' that will easily trap the unwary (and sometimes the wary) in high water. Paddle Hard! Five Foot Falls, a short, powerful, class III+ drop is right after Third Drop Rapids. This is a river-wide ledge that features a fun, challenging wavy chute.
After Five Foot Falls the river flows wide and slow through more rocky whitewater as it approaches Horserace Rapids. Watch for the horizon line and listen for the roar! The river plunges into a narrow rocky gorge and forms a fast, frothy, wavy cascade over several ledges. This run is known as both: Horserace Rapids and Jerry Chute (class IV). Here, you're facing a hundred and fifty yards of adrenaline pumping fun! Especially in medium to high-water conditions (Jerry's Chute is the name for the narrow wave-train at the end of Horserace Rapids). Scouting is a must, so make sure you land on the right bank immediately following Five Foot Falls.
Shortly downstream is the fun and wavy, S-Curve Rapids (class II-III), located in the left fork around a long narrow island. More wavy rapids (class II, yawn!) continue for several hundred yards downstream after S-Curve. The whitewater is not as challenging as what you've previously paddled, yet will require some maneuvering so pay attention!
The section ends below the Highway C bridge through some 'wimpy' riffles as you approach the WPS landing.
Canoe/Kayak Camping
River Camping for Advanced Whitewater Enthusiasts
If you're comfortable paddling class III-IV rapids, then the Peshtigo River is the only river in Wisconsin that offers the opportunity for whitewater camping trips for intermediate and advanced level paddlers. An awesome 3 day / 2 night trip would feature segments P3 through P5. Reserve a campsite for your first night at the Goodman County Park Campground, and camp your second night at the McClintock County Park Campground.
So, here's Day One (P3): put-in at Burnt Bridge Landing and spend the day running the following rapids: Michigan Rapids (class III), Upper Dells Rapids (class II), the Dells Rapids (class III), several pitches of fun class I and II rapids, a stretch of scenic flatwater, Taylor Falls (class III), and Strong Falls (class IV). Camp your first night at Goodman Park.
Day Two (P4): Day two may be kind of boring since there's no serious whitewater until "Roaring Rapids" further downstream. So, after breakfast, run Strong Falls again if you like, and/or take a stroll along Goodman Park's scenic riverside trails and boardwalks. After lunch, pack your gear, then paddle the easy four-mile trip to McClintock County Park where you can stretch your legs and spend some time exploring the trails and island in the park's scenic day-use area. Jump back into your kayak and paddle the short 1.3 miles to the beautiful McClintock County Park Campground, where you'll camp your second night.
Day Three (P4 and P5): This is the BIG DAY! Roaring Rapids! ...Okay, so first you'll have to paddle about 4.4 miles of flatwater and low-hazard whitewater... Stop for a snack (or lunch) at the Farm Dam Public Landing at Otter Creek. If you've parked a vehicle here, get rid of all your camping gear because the real fun is about to begin! The next 5.1 miles offers some of the best class III to class IV whitewater in the entire midwest. When river levels are medium-to-high, the rapids in this segment are awesome! Named features include: First Drop (class III-IV), Second Drop (class III), Third Drop/Joey's Hole (class III), Five Foot Falls (class III), Horserace Rapids (class III-IV), and finally, S-Curve Rapids (class III). Takeout at Kosir's at County High Highway C (private landing), or at the public boat landing at WPS Landing #12.
On it's own, this is a scenic, fun, challenging, multi-day intemerdiate/advanced-level whitewater river trip. However, if you're planning on an extended whitewater trip out west, like the Grand Canyon or Salmon River, the 'Pesh' provides an excellent prooving-ground for testing your skills and preparing you for some of the challenges of whitewater kayak camping.
All four of the local rafting/shuttle services offer excellent campgrounds and cabins! All are located on, or very close to, the Peshtigo River. There are links to their webpages on the Local Area Directory page.
And here's one final thought... If your looking for a great opportunity to test that new "Whitewater Crossover" kayak you've just bought, then here's your chance. Dagger, Jackson Kayak, Wavesport and Pyranha all offer excellent kayaks suitable for whitewater camping trips on the Peshtigo River.
Season
This segment is best run in spring through early summer, and after a moderate rainfall from mid-summer through fall - but is fairly navigable during lower flows. Whitewater paddlers should exercise extra caution when the Gauge at County Highway C Bridge reads over 5.5 feet (roughly +17). Above 6 feet (+24) is considered heaven for whitewater rafting in 8-12 person rafts by the locals. Very high water creates powerful hydraulics and dangerous holes that can overpower kayakers and canoeists.
River Level Information
The river gauge referenced below is located in this segment and should provide an accurate indication of current conditions in this reach.
(Numbers in parenthesis reference the Paddler's Gauge at Highway C)
River Gauge Location: USGS Gauge near County C Bridge (Wabeno)
Suggested Minimum Level: 3.6 feet
USGS Website: USGS Gauge @ Highway C Bridge
Estimated Difficulty at Gauge Flow
Below
3.6 feet
(0 to -5) Paddling not recommended.
3.6 feet
to
4.0 feet
(-5 to 0) Low runnable flow. Rapids should be navigable, but will be scrappy in this range. Class II-III run.
4.0 feet
to
4.5 feet
(0 to 6) Low runnable flow for an enjoyable run. Playspots are starting to develop nicely. Class III run.
4.5 feet
to
5.3 feet
(6 to 15) Medium runnable flow. Very good range to paddle this segment. All of the playspots should be well-developed without being too sticky or overpowering for intermediates.
5.3 feet
to
6.0 feet
(15 to 24) Medium to high runnable flows. Waves are becoming big & pushy, may overpower intermediates. Joey's Hole is difficult to exit. S-Curve Rapids are class III. First Drop & Horserace Rapids are approaching class IV at high end of this range.
6.0 feet
to
7.0 feet
(24 to 36) High runnable flows. A nice adrenaline charge for "big-water", advanced-level paddlers. Holes at 3rd Drop are very difficult to exit. Local rafting services are using 8-12 person rafts in this range. Overall, a class IV run.
Above
7.0 feet
(Above 36) Rare, unusually high flows. Huge & powerful waves. Previous "big-water" experience is necessary to run the river at these levels.