Peshtigo River

(P3) Burnt Bridge to Goodman Park
, Wisconsin Trail Guide
Trail Facts
| | |
| --- | --- |
| Distance: | 12.5 miles |
| Skill Level: | Intermediate |
| Whitewater: | Class III (IV) |
| Approx. Paddle Time: | 5-6 hours |
| Elevation Drop: | 190 feet |
| Average Gradient: | 15.2 fpm |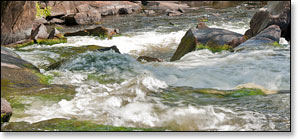 Synopsis
Trail Review
The river begins to show a little more of the rugged whitewater character it is famous for. There are numerous rapids which tend to be long and challenging through narrow, rocky banks. First is Michigan Rapids, a scenic class III which occurs a half mile below Burnt Bridge and opens with a series of drops through a right bend. Watch for the horizon line on the left and a debris pile on the right as you approach the initial drop, scout from either bank.
Two miles later is the Upper Dells Rapids (class II) followed shortly by the Dells Rapids - aka Ralton's Rip (class III). In the the Dells the river narrows into a fast and frothy rip through a beautiful rocky gorge, good maneuvering skills are required. Deadfall and strainers can sometimes be a dangerous factor so be sure to scout.
Taylor Falls is located near the end of this segment. The Falls are a short series of drops which rate class III. You'll then paddle through Taylor Rapids (class II), which end in a wide pool just above the Swede John Road Bridge.
After you pass under the Swede John Road Bridge, you'll go down the left fork around an island and through a stretch of class I-II rapids. Land on the left bank as you approach a wooden footbridge that crosses over the river, Strong Falls (class IV) lie just below the footbridge. The surrounding area is part of Goodman County Park, which offers camping, picnic areas and a few short hiking trails and scenic boardwalks.
Whitewater Paddlers Tip
There are plenty of access points in this segment, so you can pretty much pick and choose your put-in and takeout. One very good option is the run from Burnt Bridge to Burton Wells Bridge (Goodman Park Rd). This 6.3 mile trip includes: Michigan Rapids (class III), Upper Dells Rapids (class II), and Dells Rapids (class III) along with several pitches of unnamed class I and II rapids. This way you'll avoid the long stretches of flatwater between the Burton Wells Bridge and Taylor Falls.
Then, there is the short-run of Taylor Falls and Strong Falls (1.1 miles). Put-in at the landing on Benson Lake Road, just west of the Marinette County Road 1510 intersection - run Taylor Falls (class III) and Strong Falls (class IV) - and take-out at Goodman Park, just below Strong Falls on river left. Strong Falls are definitely best run at water levels above 5 feet on the USGS Gauge, or +12 on the Paddlers Gauge! There are easy access points inside Goodman Park, above and below Strong Falls, so you can run the falls over, and over, and over,...
As noted earlier, the character of the whitewater can change dramatically depending on water levels. You'll be walking your boat through scrappy boulder gardens when levels are low, or paddling through fast, BIG wave rips when levels are high. Paddling in early season, or after a sustained rainfall in summer is definitely best and well worth the trip! Watch for strainers and deadfall.
Canoe/Kayak Camping
River Camping for Advanced Whitewater Enthusiasts
If you're comfortable paddling class III-IV rapids, then the Peshtigo River is the only river in Wisconsin that offers the opportunity for whitewater camping trips for intermediate and advanced level paddlers. An awesome 3 day / 2 night trip would feature segments P3 through P5. Reserve a campsite for your first night at the Goodman County Park Campground, and camp your second night at the McClintock County Park Campground.
So, here's Day One (P3): put-in at Burnt Bridge Landing and spend the day running the following rapids: Michigan Rapids (class III), Upper Dells Rapids (class II), the Dells Rapids (class III), several pitches of fun class I and II rapids, a stretch of scenic flatwater, Taylor Falls (class III), and Strong Falls (class IV). Camp your first night at Goodman Park.
Day Two (P4): Day two may be kind of boring since there's no serious whitewater until "Roaring Rapids" further downstream. So, after breakfast, run Strong Falls again if you like, and/or take a stroll along Goodman Park's scenic riverside trails and boardwalks. After lunch, pack your gear, then paddle the easy four-mile trip to McClintock County Park where you can stretch your legs and spend some time exploring the trails and island in the park's scenic day-use area. Jump back into your kayak and paddle the short 1.3 miles to the beautiful McClintock County Park Campground, where you'll camp your second night.
Day Three (P4 and P5): This is the BIG DAY! Roaring Rapids! ...Okay, so first you'll have to paddle about 4.4 miles of flatwater and low-hazard whitewater... Stop for a snack (or lunch) at the Farm Dam Public Landing at Otter Creek. If you've parked a vehicle here, get rid of all your camping gear because the real fun is about to begin! The next 5.1 miles offers some of the best class III to class IV whitewater in the entire midwest. When river levels are medium-to-high, the rapids in this segment are awesome! Named features include: First Drop (class III-IV), Second Drop (class III), Third Drop/Joey's Hole (class III), Five Foot Falls (class III), Horserace Rapids (class III-IV), and finally, S-Curve Rapids (class III). Takeout at Kosir's at County High Highway C, or at the public boat landing at WPS Landing #12.
On it's own, this is a scenic, fun, challenging, multi-day intemerdiate/advanced-level whitewater river trip. However, if you're planning on an extended whitewater trip out west, like the Grand Canyon or Salmon River, the 'Pesh' provides an excellent prooving-ground for testing your skills and preparing you for some of the challenges of whitewater kayak camping.
All four of the local rafting/shuttle services offer excellent campgrounds and cabins. All are located on, or very close to, the Peshtigo River. There are links to their webpages on the Local Area Directory page.
And here's one final thought... If your looking for a great opportunity to test that new "Whitewater Crossover" kayak you've just bought, then here's your chance. Dagger, Jackson Kayak, Wavesport and Pyranha all offer excellent kayaks suitable for whitewater camping trips on the Peshtigo River.
Season
This segment is best run in in the spring and early summer, and after a sustained rainfall from mid-summer through fall. Contact one of the local outfitters for river levels before you paddle!
River Level Information
The river gauge referenced below is about 13.5 miles downstream from this segment. So, while this gauge provides a good indication of the general height of the river, the reading should only be considered as an estimate of the conditions in this reach. At higher levels, strainers and deadfall become more of a hazard when present.
River Gauge Location: USGS Gauge near County C Bridge (Wabeno)
Suggested Minimum Level: 4.5 feet
USGS Website: USGS Gauge @ Highway C Bridge
Estimated Difficulty at Gauge Flow
Below
4.5 feet
Paddling not recommended.
4.5 feet
to
5.0 feet
Low runnable flow. Some rapids may be bony at the lower end of this range, though all rapids should be navigable.
5.0 feet
to
6.0 feet
Medium runnable flow. Should be excellent paddling conditions in the rapids.
6.0 feet
to
6.5
Medium-high runnable flow.
6.5 feet
to
7.5 feet
High runnable flow for safe paddling conditions. Several pitches of Upper Dells Rapids and Mac Tackie Rapids are approaching class III. Deadfall and strainers are especially hazardous when present in narrow channels!
Above
7.5 feet
Rare, unusually high flows. Exercise caution if you paddle the river in this range. Mistakes compound quickly.