Peshtigo River

(P2) CCC Bridge to Burnt Bridge
, Wisconsin Trail Guide
Trail Facts
| | |
| --- | --- |
| Distance: | 9.2 miles |
| Skill Level: | Novice |
| Whitewater: | Class II |
| Approx. Paddle Time: | 4 hours |
| Elevation Drop: | 80 feet |
| Average Gradient: | 8.7 fpm |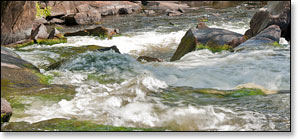 Synopsis
Trail Review
At 'medium-runnable' river levels (see below), this segment is a blast for novice whitewater enthusiasts seeking the fun challenges of low-hazard rapids and boulder gardens. Yes, there are several long stretches of flatwater and riffles, but the main draw here is the combination of wild and beautiful scenery, and miles of fun whitewater.
The most difficult rapids are at Preserve Rapids, where paddlers will find a mile and a half of nearly continuous, rocky, class I and 2 whitewater.
Throughout this segment, the rapids often occur where the river narrows into tight, fast and wavy constrictions. Picking a line through the rapids is usually pretty straightforward, but there are some places where you'll need to maneuver quickly to avoid boulders, especially when water levels are low.
This segment of the river continues to be rugged, scenic and wild, with very little development. The surrounding forest is a beautiful mix of northern hardwoods and conifers. Pine, cedar, and hemlocks frequently overhang rocky banks wherever there are rapids; at other times the river is surrounded by birch, poplar, basswood and maple. Dense patches of alder, dogwood and tall grasses cover the banks when the river occasionally meanders through marshlands.
Always be mindful of strainers.
Canoe/Kayak Camping
This entire segment runs through the Chequamegon-Nicolet National Forest. There are two rustic campsites at Burnt Bridge Landing for canoe/kayak camping, one on each side of the river. These sites are available on a first-come, first-served basis and are very popular. If you are planning on camping here, make sure you arrive early, and if one is available pitch your tent (or park your RV) before you paddle.
Season
This segment is usually best in in the spring and early summer. In summer and fall, best conditions are after a moderate to heavy rainfall. Depending on water levels the character of the rapids can change dramatically, from scrappy and 'bony', to fast and wavy. At high levels, some of the rapids will 'wash out'.
River Level Information
River Gauge Location: USGS Gauge near County C Bridge (Wabeno)
Suggested Minimum Level: 4.5 feet
USGS Website: USGS Gauge @ Highway C Bridge
The river gauge referenced below is about 26 miles downstream from this segment. So, while this gauge provides a good indication of the general height of the river, the reading should only be considered as an estimate of the conditions in this reach. At higher levels, several of the rapids become more difficult, and strainers and deadfall become more of a hazard when present.
Estimated Difficulty at Gauge Flow
Below
4.5 feet
Paddling not recommended.
4.5 feet
to
5.0 feet
Low runnable flow. Should be OK conditions to navigate the rapids which are likely scrappy at the lower end of this range. Preserve Rapids are class I-II.
5.0 feet
to
6.0 feet
Medium runnable flow for novice paddlers. Should be excellent paddling conditions in the rapids. Preserve Rapids are class II.
6.0 feet
to
6.5 feet
High runnable flow for novice paddlers.
6.5 feet
to
7.5 feet
Novice paddlers should avoid the river above 6.5. Several pitches of rapids approaching class III. Scenic whitewater run for intermediates.
Above
7.5 feet
Rare, unusually high flows. Some rapids 'washout'. Some rapids are producing class III waves. Exercise caution if you paddle the river in this range.