Black River

(BK1) Hall's Creek to Black River Falls
, Wisconsin Trail Guide
Trail Facts
| | |
| --- | --- |
| Distance: | 6.1 miles |
| Skill Level: | Easy |
| Whitewater: | Riffles |
| Approx. Paddle Time: | 3 hours |
| Elevation Drop: | 10 feet |
| Average Gradient: | 1.6 fpm |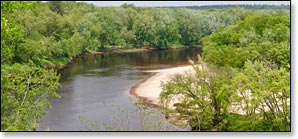 Synopsis
Trail Review
This is one of the more appealing quietwater segments of the Black for canoers and kayakers. The highlight is a long, scenic stretch below Hall's Creek Landing where the river flows past continuous rock formations which form a wall along both banks. The formations rarely reach more than 10 feet above the river and are often covered with white and jack pines. If you're paddling within a few days of a rainfall, you'll likely hear echoing, dribbling sounds from water streamlets pouring off the overhanging sandstone into the river.
Gradually the rock walls are replaced by high sandy banks, sandbars, and weedy gravelbars. Beautiful and more dramatic rock formations make a sudden reappearance as the river approaches the I-94 bridge. The formations continue to the dam in Black River Falls.
Maple trees are dominant in the surrounding forest along with birch and popple. The trees often provide cover for dense patches of ferns and wildflowers.
There are only a few shallow riffles in this segment with one short, wavy pitch approaching class I.
Season
The river is usually navigable throughout spring, summer and into fall. It can be scrappy in some places during periods of little rainfall in late summer and fall. Contact a local outfitter or the Black River State Forest for information before you paddle.
River Level Information
River Gauge Location: N/A (River Gauge is below the Black River Falls Dam, & will not display correct flow info for this segment).
Phone Contact for River Info: Black River State Forest: 715.284.4103