Black River

(BK3) Irving to Melrose
, Wisconsin Trail Guide
Trail Facts
| | |
| --- | --- |
| Distance: | 11.8 miles |
| Skill Level: | Easy |
| Whitewater: | Riffles |
| Approx. Paddle Time: | 5 hours |
| Elevation Drop: | 19 feet |
| Average Gradient: | 1.6 fpm |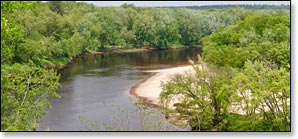 Synopsis
Trail Review
This is the second most popular segment on the Black after the stretch downriver (Melrose to North Bend). Scenic highlights include plentiful sandy beaches (when river levels are medium and lower), beautiful rock formations and a tall, dramatic bluff. The most-scenic rock formation is a pine-covered, rocky ledge that overhangs a deep pool about 100 yards upriver from Linde Landing.
The high bluff towers over the river a mile and a half above Melrose and gradually slopes down into a moss-covered, rock wall beneath a canopy of mixed-pines. There are a number of other minor rock formations along with several small hills covered in conifer and hardwood forests visible from the river.
The lower Black is well-known for its large number of inviting, sandy beaches and its shallow, sandy river bottom. Overnight camping on any of the beaches is fun and free. Please limit your stay at any single location to one night; be sure to check the weather report, and get a water-level forecast from a local outfitter or from the Black River State Forest before you camp on the river.
The river drops less than 19 feet in the 11.8 miles between Irving and Melrose for an average gradient of 1.6 feet per mile. The absence of any whitewater, a super-low gradient and beautiful scenery makes this reach a very pleasant, lazy float for quietwater enthusiasts.
Season
Water levels are usually adequate from spring through fall. However, when water levels are low the river can be shallow where the river forks around the two large islands, paddlers may have to get out and push in several spots over sandy shallows.
River Level Information
River Gauge Location: Black River Falls
Suggested Minimum Level: 200 cfs
Suggested Maximum Level: 3000 cfs
USGS Website: 053813595
Phone Contact for River Info: Black River State Forest: 715.284.4103