Black River

(BK2) Black River Falls to Irving
, Wisconsin Trail Guide
Trail Facts
| | |
| --- | --- |
| Distance: | 12.1 miles |
| Skill Level: | Easy |
| Whitewater: | Class 1 |
| Approx. Paddle Time: | 5 hours |
| Elevation Drop: | 12 feet |
| Average Gradient: | 1.0 fpm |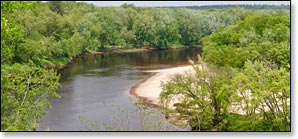 Synopsis
Trail Review
Though not as popular as the more sandy reaches downriver, this segment features a beautiful wilderness setting with few signs of civilization. Lowland hardwoods often canopy the river banks and include, maple, birch, ash, and elm. Occasionally you will paddle past scenic rock formations covered with white and jack pines.
The highlight of this segment is a beautiful, sandstone bluff overlooking a small wooded island (mile 47.8). A large sandy beach forms in the left channel when river levels are at medium or lower. Land on the beach above the island, walk down and relax on the white sand for a bit, and just soak up the view!
A lot of streams and creeks enter the Black and form shallow, sandy tributaries where they enter the river. Where the shallow, sandy bottom is firm enough, it's often fun to land (upriver side only!) and wade up one of the creeks a short ways and do some light exploring. Just make sure you secure your canoe or kayak first!
The river in this segment is wide, slow, and primarily quietwater with a small number of shallow riffles and a single class 1 rapids.
Canoe/Kayak Camping
The Black River State Forest maintains a small, primitive canoe/kayak campground for overnight camping below Hawk Island. The camp offers two tent sites. Each site has a picnic table, fire ring and a shared toilet. Camping is free and operates on a first-come, first-serve basis and is limited to one night only!
Season
The river is usually navigable throughout spring, summer and into fall. It can be scrappy in some places during periods of little rainfall in late summer and fall. Contact a local outfitter or the Black River State Forest for information before you paddle.
River Level Information
River Gauge Location: Black River Falls
Suggested Minimum Level: 200 cfs
Suggested Maximum Level: 3000 cfs
USGS Website: 053813595
Phone Contact for River Info: Black River State Forest: 715.284.4103