Synopsis
Paddling the Wolf River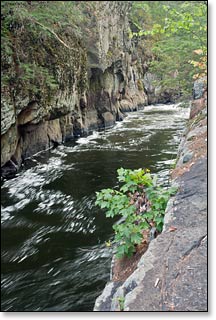 The Wolf River is one of the most popular whitewater rivers in Wisconsin. Originating above Pine Lake in Forest County, the river flows for more than 240 miles before joining with the Fox River in Lake Butte de Morts in Winnebago County. Most of the lower reaches are primarily flatwater, but the rugged 37-mile upper-reach between Lily and Big Smokey Falls features a large number of rapids and waterfalls which rate from class I to class IV. This stretch is extremely popular for whitewater canoeing, kayaking and rafting. During normal flows, the majority of the rapids are in the class II to III range, with a few reaching class IV. Several of the class III's can become class IV in high water conditions, especially in spring.
Consistent flow, numerous access points, plenty of whitewater, limited development, gorgeous scenery, clean water, and excellent fishing; all these characteristics combine to make the Wolf River an immensely popular recreation destination. The Wisconsin DNR owns large tracts of land along the riverway, greatly limiting development and preserving the river's natural beauty.
The landscape is widely varied. Open marsh, dense thickets and grassy lowlands often surround the river when it is wide and slow, while beautiful hardwood forests and pine groves normally canopy rocky shorelines where the river rumbles through narrow whitewater runs. Common trees include: maple, basswood, beech, aspen, birch, and white and red pine. A few of the wildlife species you may see or hear include: eagle, kingfisher, duck, deer, mink, otter, fox, wolf, raccoon, and black bear.
The segment between County M and Big Smokey Falls is one of the premier whitewater rafting and kayaking runs in Wisconsin next to the "Roaring Rapids" segment of the Peshtigo. This stretch features a number of class 3's and a couple of class 4's, including the ruggedly scenic "Dells Gorge" and "Big Smokey Falls".
The river runs through the Menominee Indian Reservation below County Highway M, and the National Park Service has designated this area as a Wild and Scenic River. The tribe controls access and runs a shuttle service for this section. If you have your own watercraft and transportation, you will need to acquire a permit from the tribe in order to use any of the landings in Menominee County. There are no canoe campsites along the river, however there are several privately owned and National Forest Service campgrounds in the area.
Season
The river is usually navigable throughout the warm weather season. The best paddling is from the snow melt-off through about mid-July. Several rapids can become scrappy during dry spells, especially in late summer and fall.
River Level Information
River Gauge Location: Highway 64 Bridge near Langlade, northeast bank.
Suggested Minimum Level: 7.6 feet
USGS Website: USGS Gauge @ Langlade