Synopsis
Paddling the Wolf River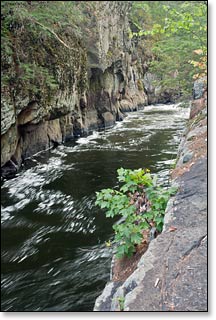 The Wolf River is one of the premier whitewater rivers in Wisconsin. Originating above Pine Lake in Forest County, the river flows for more than 240 miles before joining with the Fox River in Lake Butte de Morts in Winnebago County. Most of the lower reaches are primarily flatwater, but the rugged 37-mile upper-reach between Lily and Big Smokey Falls features a large number of boulder gardens, rapids and waterfalls. This stretch is extremely popular for whitewater canoeing, kayaking and rafting. During normal flows, the majority of the rapids are in the class II to class III range with a few reaching class IV.
Consistent flow, numerous access points, rapids, boulder gardens, limited development, gorgeous scenery, more rapids, more boulder gardens ...and excellent fishing; all these characteristics combine to make the Wolf River an immensely popular recreation destination.
The landscape is widely varied. Open marsh, dense thickets and grassy lowlands often surround the river when it is wide and slow, while beautiful hardwood and mixed pine forests canopy rocky shorelines where the river rumbles through bouldery whitewater runs. Common hardwoods include: maple, basswood, beech, aspen, birch and popple. Conifers include: spruce, balsam fir, cedar and numerous red and white pines.
Some of the wildlife that inhabit the area include: eagle, kingfisher, heron, duck, deer, mink, otter, fox and raccoon. You may also see a black bear or wolf (the latter is rarely seen but often heard yipping and crooning on clear nights).
Whitewater Kayaking and Rafting
Generally, the whitewater is a lot of fun to paddle, but isn't overly difficult. Some sections will challenge novices and others will challenge intermediates. However, many of the rapids are long, several run for a quarter-mile or more, and many produce a high number of naturally-occurring surf waves, holes and eddies.
The Wolf does feature one of the best whitewater runs in Wisconsin for advanced paddlers and thrill-seeking rafters in the six-mile stretch between Otter Slide Landing and Big Smokey Falls. This reach offers several class III and class IV rapids and falls. Most notable are the ruggedly scenic "Dalles Gorge" and "Big Smokey Falls". This run compares favorably to the "Roaring Rapids" on the Peshtigo, and "Piers Gorge" on the Menominee.
The river runs through the Menominee Indian Reservation below County Highway M (Segment W5), and the National Park Service has designated this area as a Wild and Scenic River. The tribe controls access and runs shuttle services for this reach. If you have your own watercraft and transportation, you will need to acquire a permit from the tribe in order to use any of the landings in Menominee County. Read the Trail Review for Segment W5 for more info.
The Upper Wolf River State Fishery Area
The Wisconsin DNR owns much of the land immediately surrounding the Wolf River in Langlade County. These state-owned properties have been designated as the "Upper Wolf River State Fishery Area" and have greatly limited development on the riverway. Visitors who paddle the river will find a gorgeous, rugged wilderness setting. Oftentimes, as you're gliding along, it can be easy to forget that civilization is never far away.
The Wolf is home to several species of fish including brown, brook and rainbow trout, large and smallmouth bass, panfish, walleye, northern pike and the occasional musky.
Camping
Canoe/Kayak Camping
There are no canoe campsites along the river. Several local outfitters have campgrounds along with shuttle and guided rafting services.
Chequamegon-Nicolet National Forest Campgrounds
The largest campground of the Chequamegon-Nicolet National Forest is two miles northeast of the County M Landing at Markton (W3, W4). Boulder Lake Campground has 89 family-sites and 10 group sites in a gorgeous mixed-pine and hardwood forest next to a scenic lake. Most of the campsites are reservable. The campground was recently upgraded to offer an expanded beach area, ampitheater, heated showers, flush toilets, rv dump station, and several electric sites.
Season
The Wolf is fed by a large number of springs and small tributaries which help maintain a consistently navigable flow throughout spring, summer and fall. Occasionally, the river may be too low for an enjoyable paddle during dry spells in summer and fall. However, when a sustained rainfall occurs river levels will rise rapidly and drop slowly - and paddling conditions will be good-to-excellent for an extended period of time.