Menominee River

(ME1) Piers Gorge
, Wisconsin Trail Guide
Trail Facts
| | |
| --- | --- |
| Distance: | 2.9 miles |
| Skill Level: | Advanced |
| Whitewater: | Class IV |
| Approx. Paddle Time: | Varies |
| Elevation Drop: | 40 feet |
| Average Gradient: | 13.8 fpm |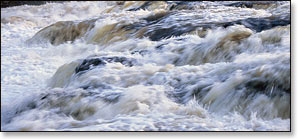 Synopsis
Trail Review
Piers Gorge is a short, high-adrenaline action run that serves up a class IV drop named Missicot Falls along with several class II and class III features, all in one of the most beautiful river-gorge settings in the Midwest. Water levels are controlled by the Little Quinnesec Falls Dam, which generally has a steady release rate for fairly consistent whitewater throughout the warm-weather season. This is a great destination when other whitewater rivers are running low. A number of outfitters provide guided rafting trips and, shuttle services for kayakers running the gorge.
While the boundaries of what's considered 'Sick' or 'Crazy' in whitewater kayaking are constantly being pushed to higher, more dangerous heights every year (You-Tube: 'Rush Sturgess Highlights'). The run through Piers Gorge - while only a class IV :) - should still be on the "been-there, done-that" list of any advanced/expert whitewater kayaker who resides in the upper Midwest. Piers Gorge offers a ton of opportunities to play and test your skills, and there are enough drops, holes, surfing waves and haystacks to make the day interesting and the long drive worthwhile. A nice trail system runs through the forest along the north bank (Michigan side) with plenty of access points above and below Piers Gorge. So you can make run after run 'till your heart's content.
Whitewater Rafting
For all you newbie's reading this and planning your first whitewater rafting trip. Just go ahead and ignore what you read in the previous paragraph about this being "only a class IV" run. Because, when you're in the raft and approaching the major drop of Missicot Falls, and that bone-shaking roar is echoing off the cliffs from inside the gorge. You'll spot the towering plume of Volkswagen Rock dead ahead, then the front of the raft suddenly dips and the world turns white. That's when the adrenaline really kicks in and you'll be asking yourself:
"If this is only class 4, what the heck is class 5 ?..."
...or, like most people
...you'll just be screaming!
Camping
Michigan State Forest Campgrounds
The nearest family camping is at the Carney Lake State Forest Campground in Michigan. This scenic, rustic campground offers 17 sites available on a first-come, first-served basis.
Private Campgrounds and Outdoor Adventure Resorts
Thornton's, Kosir's and the Wildman Whitewater Ranch all feature excellent, well-maintained family campgrounds and cabins near the Peshtigo River. Each resort offers camping and lodging in addition to their whitewater rafting trips and kayaking shuttle services for the Menominee and Peshtigo Rivers. Wildman Resort has two modern cabins at their 'Menominee River Outpost'.
Season
Water levels are almost never too low for paddling. However, release from the Little Quinnesec Falls Dam determines water levels and the dam does not operate on a set schedule. The river levels can fluctuate from as low as 600 cfs to as high as 20,000 cfs. Always check the Little Quinnesec Falls Dam voice-recording for river conditions before you paddle!
Kayakers should take caution at higher water levels. When river levels reach above 3000 cfs, the drop at Missicot Falls and many of the holes below it present powerful hydraulics and have been known to "de-boat" paddlers into an unpleasant swim. Injuries occasionally occur!
River Level Information
River Gauge Location: USGS Gauge @ Niagara, WI
USGS Website: USGS Gauge @ Niagara, below Little Quinnesec Dam
Phone Contact for Info: Little Quinnesec Falls Dam (recording): 715.251.8230
Suggested River Levels:
The following river level information is geared towards advanced and expert whitewater kayakers. Intermediate level kayakers should avoid paddling Piers Gorge above 1400 cfs. Powerful hydraulics inside the gorge can be easy to underestimate.
Water levels rise rapidly during a dam release!
Scout the river before you paddle and know your limitations!
Below
600 cfs
Paddling not recommended. River level rarely in this range!
600 cfs
to
800 cfs
Low runnable flow, a 'creek-boat' experience. Intermediate whitewater paddlers will enjoy the river at these levels. Rapids throughout are in the class II to class III range. 4th Pier is undeveloped. Follow the main channel of flow for best conditions.
800 cfs
to
1400 cfs
Rapids in 3rd and 2nd Piers are class III and will push the skills of intermediates, especially at the high end of this range. Low to medium runnable flow for an enjoyable experience for advanced/expert paddlers. 4th Pier is still undeveloped. Chicken Ender can be a lot fun for expanding your vertical play skills. Follow the main channel of flow for best conditions.
1400 cfs
to
1800 cfs
Intermediate paddlers should avoid the river, mistakes compound quickly in 3rd and 2nd Piers. Medium runnable flow for an enjoyable experience for advanced/expert paddlers. Playspots at 4th Pier are starting to develop, will open up more at higher ranges. 3rd Pier is approaching class IV. 2nd Pier is class III with fun waves developing. Exercise caution in lee of VW Rock!
1800 cfs
to
2400 cfs
Intermediate paddlers avoid the river. Excellent flow range for advanced/expert paddlers, worth the trip. Fun surfing waves and holes start to develop at 4th Pier. 3rd Pier is class IV. Pushy waves develop at 3rd Pier and 2nd Pier at high end of this range. Exercise caution in lee of VW Rock!
2400 cfs
to
3000 cfs
Above normal flows. The river will provide a nice adrenaline charge! Waves are 'heavy'/pushy inside the gorge proper, from 3rd Pier to below 2nd Pier. 3rd Pier is class IV. Terminal Surfer (class III+) becomes dangerous and very sticky in this range, the hydraulics here can stop large rafts.
3000 cfs
to
5000 cfs
Above normal flows. Kemosabe and Shallow Hal are running at 4th Pier. Powerful hydraulics and big pushy waves throughout 3rd, 2nd & 1st Piers. Several holes become very sticky & difficult to exit. It is recommended that you not paddle Piers Gorge unless you've run it at lower levels.
Above
5000 cfs
Rare, unusually high flows. The 4 Piers are running full blast with huge and very powerful waves. Several holes are very difficult to exit. Do not paddle Piers Gorge unless you've run it at lower levels.