Namekagon River

(N1) Namekagon Dam Landing to Cable Wayside Landing
, Wisconsin Trail Guide
Trail Facts
| | |
| --- | --- |
| Distance: | 13.5 miles |
| Skill Level: | Easy |
| Whitewater: | Class I |
| Approx. Paddle Time: | 5-6 hours |
| Elevation Drop: | 134 feet |
| Average Gradient: | 9.9 fpm |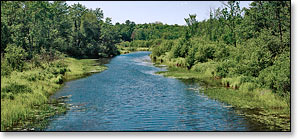 Synopsis
Trail Review
From the Namekagon Dam Landing, the narrow river quietly meanders through low banks of fen forest and open marsh for the first several miles. The first rapids occur a little more than two miles below the dam where the surrounding forest closes in and the river rushes through a long pitch of (unnamed) class 1 whitewater. After the rapids, the river slows and widens and the forest recedes into the distance as open marsh once again claims the riverbanks.
This pattern continues for the entire section, slow and calm with occasional riffles through open marsh, then the river constricts and rushes through a low hazard rapids between densely wooded banks.
There is plenty of wildlife along the upper Namekagon, especially beaver. These little furballs love building dams and it's quite amazing to see what they're sometimes able to accomplish. Occasionally their dams get pretty big, and one may be blocking the river channel requiring paddlers to make a short portage. So plan on getting your feet wet! Please do not do anything to disturb the dams, you're the visitors out here.
There is one NPS canoe campsites in this segment.
Season
The best paddling is usually in May and June, thereafter following an extended rainfall from July through September. This segment is often navigable into late fall, but you may have to walk through some shallow riffles and rocky rapids.
River Level Information
River Gage Location: NPS Namekagon Dam Gauge
Suggested Minimum Level: 1.5
On the Internet: National Park Service website
Phone Contact for River Info: NPS, Namekagon River Visitor Center: 715.635.8346