Eau Claire River

(EC1) Bear Lake Road to County N Bridge
, Wisconsin Trail Guide
Trail Facts
| | |
| --- | --- |
| Distance: | 13.9 miles |
| Skill Level: | Novice (Advanced) |
| Whitewater: | Class II (Class III) |
| Approx. Paddle Time: | 6-8 hours |
| Elevation Drop: | 168 feet |
| Average Gradient: | 12.1 fpm |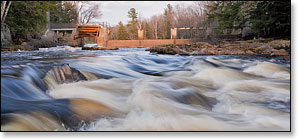 Synopsis
Trail Review
The most prominent feature of the river is the Eau Claire Dells, a scenic rocky gorge where the river roars through a challenging class III that should only be attempted by advanced and expert kayakers. Outside of the Dells, this segment is mostly flatwater with a number of riffles, low hazard rapids (class II's) and scattered boulder gardens. Most of the whitewater is suitable for novice canoers or kayakers except during high-water conditions, such as occurs during the spring melt-off.
Those who run the class III, Eau Claire Dells will usually only run the Dells, putting in below the dam and taking out just below the falls. Most paddlers who run the entire segment will portage the Eau Claire Dells altogether, taking out above the dam and hiking along the wide and easy footpath to below the falls. Just be aware that there is a short series of steep steps carved into the rock that you will have to navigate near the end of the portage.
Besides the Dells, other noteable rapids include a long stretch of whitewater about a mile and a half below the Bear Lake Road Bridge. This stretch features two named rapids: Master Ledges (class II), and Three Rows Falls (class II). Downstream from the Eau Claire Dells is another class II named Barnard Rapids. This is a fast, narrow and rocky rapid that begins shortly below the Highway Z Bridge.
Much of this section meanders through a quiet agricultural countryside mixed with hardwood forests and frequent open meadows. Maple, hemlock, birch, and mixed pine often overhang crowded banks of lush undergrowth including thick patches of canada yew in the Dells. The spring bloom in the Dells is beautiful!
Season
For Advanced level kayakers, the best paddling for the Eau Claire Dells is in the spring during the snow melt-off, or after a sustained rainfall during the rest of the warm-weather season. For the rest of the segment, paddling conditions can vary quite a bit throughout summer and fall, mostly dependant on rainfall. In low water conditions the riffles and rapids may become to shallow to paddle through. Most paddlers should avoid the river at high water levels!
River Level Information
River Gage Location: Kelly, County SS Bridge
Suggested Minimum Level: Above & below Dells, 1.2 feet
Suggested Maximum Level: Above & below Dells, 4 feet
On the Internet: USGS gage @ Kelly, Hwy SS Bridge
Phone Contact for River Info: N/A