Synopsis
Paddling the Chippewa River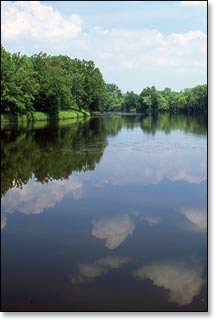 This wide, scenic river flows through a rural countryside of mixed hardwood and softwood forests, beautiful meadows, dairy farms, and agricultural communities. Birch, oak, maple, basswood, aspen, and conifers often overhang the shoreline, canopying lush undergrowth. The river is very popular for its excellent fishing with muskellunge, northern pike, walleye, smallmouth bass, and a variety of pan fish often pulled from the waters.
The majority of the 48 mile reach from the Arpin Dam outside Radisson, to the Flambeau River Confluence, features mostly calm water. The most challenging whitewater occurs in two places; first at Bellile Falls Rapids, a long class 2 located just below Arpin Dam, and the second in the 10.7-mile stretch between the Highway D and Highway A bridges. This segment features numerous pitches of riffles and class 1 rapids. The remaining 36 miles are mostly flatwater with occasional riffles and low hazard rapids scattered throughout.
Paddlers should take special care after a release from the Arpin Dam, or after periods of heavy rainfall, as the rapids can produce large waves that can potentially swamp an open deck canoe. Also be aware that the current can be deceptively fast, especially along the shoreline.
The river is the centerpiece of the Upper Chippewa River Basin. The Flambeau, Jump, Elk, Thornapple, and Couderay Rivers all feed into the Chippewa, draining an area roughly the size of Connecticut, more than 4,600 square miles.
The Chippewa River has a rich logging history The entire basin was logged from the 1850's through about 1906. The river provided an excellent waterway to float cut timber from northern Wisconsin all the way down to the Mississippi River.
Season
The river is usually runnable from early spring through late fall. Novice canoers and kayakers need to exercise extra caution when the waters levels are high. High flows generally occur through early May, after periods of heavy rainfall, and when the Arpin Dam has a release. This is an excellent river to paddle in late summer and fall when many other rivers are experiencing low water volume. Contact the Wisconsin DNR office in Ladysmith (715.532.3911) for water levels before paddling the river.