Synopsis
Paddling the Brule River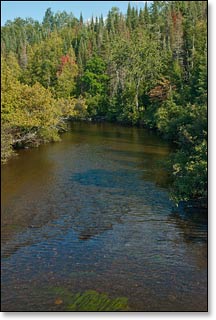 The 55 mile-long, Brule River is one of the most secluded, navigable rivers in the state, flowing through a remote wilderness setting with few cabins and even fewer roads. The river provides an excellent, relaxing "get-away" experience for canoers and kayakers. Most of the river forms a segment of the border between Wisconsin and upper Michigan. The Chequamegon-Nicolet National Forest borders nearly the entire length along the Wisconsin side, while the Michigan DNR owns most of the land on the Michigan side.
The Brule has that fun, small-river character in a beautiful, often intimate northwoods setting. The landscape varies from small rolling hills with steep wooded banks, to a dense northern lowland forest of spruce/tamarack swamp, to open wetlands. Atogether the river flows through a wonderful and unique, northwoods blend of brushy thickets and dense forest made up of aspen, maple, birch, cedar, spruce, balsam fir and red pine.
Wildlife is abundant, especially in the morning and afternoon hours. Paddlers are likely to see: white-tailed deer, beaver, muskrat, raccoon, and river otter. Among the bird-life you are likely to see are: wood duck, common merganser, belted kingfisher, spotted sandpiper, great blue heron and several species of warbler. The river is also a popular trout stream with brown and brook trout frequently pulled from the many pools scattered throughout the river's length.
The Brule is mainly quietwater with just a few, short sets of rapids, most located just above and below the Pentoga (FR 2446) Bridge in Segment B2.
Early french explorers named the river 'Brule', which means 'burnt' in french. The forest near the confluence with the Menominee had been decimated by fire around the time the explorers first arrived. The Chippewa named the river "We-sa-co-ta".
Camping
Canoe/Kayak Camping
There is one riverside, canoe/kayak campsite for overnight camping in segment B1, and two riverside, canoe/kayak campsites for overnight camping in segment B2. Camping at these sites is free availability is first-come, first-served. Please limit your stay to one night only! All three campsites are primitive.
Chequamegon-Nicolet National Forest Campgrounds
The Chequamegon-Nicolet National Forest in Wisconsin has 14 campgrounds within 30 miles of the Brule River. Nearly all are located on scenic northwoods lakes and two offer online reservations.
The Franklin Lake Campground is one of the most popular family campgrounds in the entire Cheq-Nicolet National Forest. There are a total of 77 reservable sites in two campgrounds (North and South) beneath tall pines and hemlocks next to a crystal-clear, 880-acre lake. Activities include: a swimming beach, boating, fishing, an interpretive center, naturalist programs and several hiking trails inculding the Franklin Nature Trail, which is featured in this guide.
Morgan Lake Campground is about 22 miles south of the Highway 139/189 Bridge Landing (B1 and B2). This quiet, secluded campground sits next to a small 45-acre lake and features 18 individual sites and a shady, reservable group site that holds up to 25 people - excellent for family camping! The group site and nine of the individual sites are reservable.
Go to the Local Area webpage for a complete list of the 14 National Forest campgrounds that are near the Brule River.
Ottawa National Forest Campgrounds (Michigan)
The Ottawa National Forest in Michigan has seven campgrounds within a half-hour driving distance of the Highway 55/73 Landing in Segment B1. All of these camgrounds are located next to scenic northwoods lakes, and all are available on a first-come, first-served basis.
Michigan State Park Campgrounds
The Bewabic State Park is just a short drive north from the Brule River and offers a fun family campground with 129 campsites, many of which are reservable.
"Bewabic has picnic areas, a tennis court, a hiking trail, two playgrounds, an excellent beach and a boat launch to Fortune Lake. It is also part of the Iron County Heritage Trail system."
"Many other points of interest in the area are within easy reach, such as Horse Race Rapids, Chicaugon Falls, Pentoga Park with its Indian burial ground, Iron Mountain Iron Mine and the Iron County Museum in Caspian. Using scaled down, working models, the museum displays the history of the logging and mining industries of the area."
_Michigan DNR
Season
The river is usually navigable throughout spring, summer and into fall. It can be scrappy in some places during periods of little rainfall in summer and fall.