Franklin Nature Trail

Interpretive Trail
, Wisconsin Trail Guide
Trail Facts
| | |
| --- | --- |
| Distance: | 1.0 miles |
| Exertion/Intensity: | Easy |
| Terrain: | Mostly flat |
| Elevation Gain: | > 100 feet |
| Trail Surface: | Dirt path |
| Rocks & Roots: | Occasional |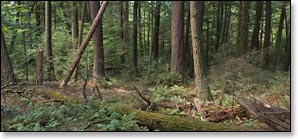 Synopsis
Trail Review
The Franklin Nature Trail features a wonderful variety of scenery over gentle terrain. The trail passes through a lush forest of mixed hardwoods, towering white pines, stands of large hemlocks, scenic views of Butternut Lake, a winding 400' long boardwalk through a tamarack bog, and several historical sites.
The forest understory is home to a wide diversity of plant life. Species include: Bluebead Lilly, Bunchberry, Lilly-of-the-Valley, Starflower, Jack-in-the-Pulpit, and dense patches of ferns. When you walk along the boardwalk through the tamarack bog, you'll often find yourself surrounded by a dense carpet of spongy, sphagnum moss beneath a canopy of tamarack and spruce. Other plants in the acidic swamp include: Leatherleaf, Bog Laurel, Bog Rosemary, Pitcher Plant, and Rosemary Tea.
This area has a rich cultural history. Indians have camped, hunted, and fished here periodically since about 8,000 BC. Archeologists have discovered several ancient sites scattered around Butternut Lake.
The Franklin Nature Trail is an interpretive trail. There is a free 16-page booklet at the trailhead information-kiosk that gives a narrative of 21 numbered "stations" on the trail. The booklet provides excellent descriptions of the surrounding habitat and of the cultural history of the area. Overall, this is a short, fun and relaxing hike, suitable for almost anyone.
More Information
Website: Franklin Nature Trail, US Forest Service
Phone Contact: 715.479.2827
Trail Access Fee: Yes, Forest Pass from US Forest Service required. Pay station at trailhead. Daily or annual.