Synopsis
Paddling the Bois Brule River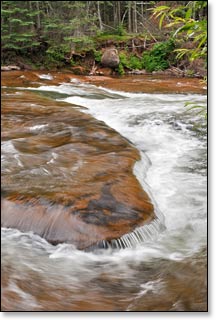 The Bois Brule River, from Stone's Bridge to the outlet at Lake Superior, is arguably among the best canoeing and kayaking rivers in the Midwest. Consistent flow and a diverse character provides appealing trips for paddlers of all skill levels.
The upper reaches of the river offer a calm, serene beauty flowing through a narrow and intimate setting with quiet pools and small lakes before tumbling over a number of fun rapids and chutes. Another quiet stretch, with strikingly clear waters, then the Brule begins to show some character as it roars over a series of challenging ledges and rapids through a narrow winding valley. Gradually the river slows and widens before spilling into Lake Superior.
Most of the river lies within the 52,000-acre Brule River State Forest of which 12,000 acres are privately owned. Both the DNR and the private land owners have taken great measures to manage and preserve the unique ecological character of the river. The beautiful and diverse ecosystem that surrounds the river provides for an abundance of wildlife.
Several species of mammals inhabit the riverway, including: beaver, otter, white tailed deer, and numerous species of songbirds. You will occasionaly spot an osprey or eagle soaring overhead or perched in a tall pine, searching the river for their next meal.
The landscape surroundng the upper Bois Brule is mostly open marsh and northern boreal forest. Alder thickets, cedar, spruce and a variety of hardwoods are common along the river. As you go downstream, the landscape slowly changes. The river meanders through increasingly taller hills covered in dense, lush forests of aspen, birch and maple, along with beautiful groves of pine, cedar, spruce and balsam fir. Finally, the high banks and tall hills give way to open marsh dense thickets shortly before the river flows into Lake Superior.
The Bois Brule is an extremely popular trout stream. Rainbow and brook trout are the most sought after, while the more difficult to catch brown trout is occasionally pulled from the river. Other species include steelhead, chinook and coho salmon. The State Forest provides a large number of access trails for anglers from various designated parking lots located along the full length of the river. Contact the headquarters at 715.372.4866 for more information, or click here for a Brule River State Forest Map.
Camping
Brule River State Forest
The Brule River State Forest features two beautiful riverside campgrounds with developed canoe landings for canoe/kayak camping.
The Bois Brule Campground is located at the end of segment BB1 and features 22 sites in a gorgeous setting beneath tall pines. 17 sites are pull-in and 5 are walk-in tent sites. Amenities include a hand pump for drinking water and vault toliets. The Copper Range Campground is located near the end of segment BB2 and features 15 sites in a hardwood and mixed pine forest. There is a hand pump for drinking water and vault toilets. There are no electric sites at either campground.
The location of the two campgrounds make multi-day excursions easy, and both offer reservable campsites.
Amnicon Falls State Park
Amnicon Falls State Park lies 16 miles west of the Bois Brule River on US Highway 2. The park features a series of dramatic waterfalls and rocky rapids in a grogeous setting beneath towering pines. The rustic, family campground at Amnicon Falls State Park has 36 sites. Most offer quiet and seclusion, and many offer some type of shade. One site is accessible (disabilities), and there are two walk-in tent sites. Amenities include vault toilets (accessible) and drinking water. 29 sites are reservable and seven are available on a first-come, first-served basis.
Chequamegon-Nicolet National Forest Campgrounds
The Chequamegon-Nicolet National Forest has two lakeside campgrounds within 30 miles of the Bois Brule. Perch Lake Campground is a popular family favorite that offers 16 campsites next to beautiful 72-acre lake (Perch Lake). A gorgeous pine and hardwood forest surrounds the lake which is almost completely undeveloped and contains panfish, trout and largemouth bass. Wanoka Lake Campground sits next to a 15-acre trout lake, seven miles east of Iron River, just south of Highway 2. There are 20 sites. Both campgrounds have campground hosts during the summer and all sites are available on a first-come, first-served basis.
Season
The river is usually navigable throughout spring, summer and into fall. It can be scrappy in some places during periods of little rainfall in late summer and fall.