Synopsis
Paddling the Popple River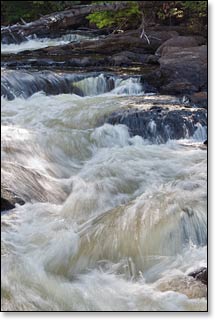 The upper reaches of the Popple River run through the Chequamegon-Nicolet National Forest while the lower reaches are protected by the 'Wisconsin Wild Rivers Act of 1965'. These protections have made the Popple River one of the wilder, more remote rivers in the state with very little development along its banks. So what you will find is mile after mile of beautiful wilderness scenery.
Novice paddlers with whitewater experience will enjoy the occasional, fun and challenging rapids in Segment PO1. Intermediate level paddlers will love the several class III rapids and falls below the Morgan Lake Road Bridge in PO2 (when river levels are adequate). Everyone will appreciate the wild beauty and solitude that the river offers.
Most of the Popple in Segment PO1 runs through a low, open valley of grassy marsh and brushy thickets with conifers and hardwoods visible in the distance. The openness of the river habitat makes wildlife spotting very easy, including an abundance of birdlife. Look for flycatchers, gray jays, chickadees, grouse, colorful woodpeckers, wood ducks and eagles. More than 20 species of warblers are also believed to inhabit the small river valley. Common mammals include beaver, deer, and black bear.
After Morgan Lake Road (PO2), a mixed northern hardwood forest becomes more common along the riverbanks. Birch, aspen (popple), beech and maple are mixed with beautiful stands of white and red pine, cedar, spruce and hemlock. In some of the rocky rapids the river becomes so narrow that trees completely canopy the river, creating an intimate tunnel-like effect.
Camping
Canoe/Kayak Camping
There is a canoe/kayak campsite for overnight camping in segment PO1 at FR 2159 Bridge Landing. This site is also vehicle accessible so you can set up camp before you paddle (if the site is available). Another canoe/kayak campsite is in PO2 near 9 Day Rapids. The latter is a little more scenic. Camping at both sites is free and availability is first-come, first-served. Please limit your stay to one night only! Both campsites are primitive.
Florence County Park Campgrounds
West Bass Lake Park sits next to a beautiful 55-acre lake in a northern hardwood and conifer forest. "This facility has 29 sites on a pristine and quiet lake. There is a boat launch, pit toilets, water pumps, and sandy beach. Each site has a picnic table and a fire grate. Sites are available on a first come first serve basis." _Florence County
Chequamegon-Nicolet National Forest Campgrounds
The Chequamegon-Nicolet National Forest has six family campgrounds within 30 miles of the upper Popple River. Nearly all are located on scenic northwoods lakes and two offer online reservations.
Morgan Lake Campground is about 1.7 miles from the FR 2159 Bridge Landing (PO1). This quiet, secluded campground sits next to a small 45-acre lake and features 18 individual sites and a shady, reservable group site that holds up to 25 people - excellent for family camping! The group site and nine of the individual sites are reservable.
Laura Lake Campground is about a 25 minute drive from the Morgan Lake Road Bridge Landing (PO1 and PO2). This campground features "two beautiful clear water lakes, undeveloped shoreline, and restricted motor use, Laura Lake Campground provides an exceptional camping opportunity."
The "campsites are located on the southwestern shore of 110-acre Laura Lake. The picnic and swim beach are located on the adjacent 50-acre Gordon Lake..." All 41 sites are reservable. Outdoor recreation opportunities "at Laura Lake are fishing, swimming, kayaking, canoeing, and hiking the trail that goes around the lake. The area also provides a bike trail that runs along the old Lake 9 railroad grade." _US Forest Service
Go to the Local Area webpage for a list of the six National Forest campgrounds that are near the Popple River.
Michigan State Park Campgrounds
The Bewabic State Park is a 40-minute drive north from the Highway 101 Wayside Landing (PO2). The park offers a fun family campground with 129 campsites, many of which are reservable.
"Bewabic has picnic areas, a tennis court, a hiking trail, two playgrounds, an excellent beach and a boat launch to Fortune Lake. It is also part of the Iron County Heritage Trail system."
"Many other points of interest in the area are within easy reach, such as Horse Race Rapids, Chicaugon Falls, Pentoga Park with its Indian burial ground, Iron Mountain Iron Mine and the Iron County Museum in Caspian. Using scaled down, working models, the museum displays the history of the logging and mining industries of the area." _Michigan DNR
Season
In angler's terms this is a 'freestone' river, fed more by snow melt (spring-time) and rain rather than springs. Although several springs feed into the river, their flow is not enough to sustain sizeable water levels suitable for paddlers throughout the summer, especially considering the number of rapids you will encounter. The best paddling is in the spring and early summer, and after a sustained rainfall throughout summer.