White River

(WH1) Maple Ridge Road Bridge to Highway 112 Dam
, Wisconsin Trail Guide
Trail Facts
| | |
| --- | --- |
| Distance: | 14.4 miles |
| Skill Level: | Novice |
| Whitewater: | Class II |
| Approx. Paddle Time: | 6+ hours |
| Elevation Drop: | 171 feet |
| Average Gradient: | 11.9 fpm |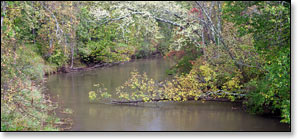 Synopsis
Trail Review
Meandering, narrow, fast, rocky, and wild, these are commonly used words when describing the float down the White River from Maple Ridge Road to Highway 112. Canoers and kayakers will discover a remote river with long stretches of class 1 and 2 rapids and boulder gardens, and almost no development after the first two miles. The river is frequently compared to the lower reaches of the Bois Brule, not only for the characteristics mentioned above, but also due to the 'silty' quality of the water and the similarities of the landscape. The banks are often steep cliffs of red clay with dense, overhanging brush and thickets.
The river enters a narrow valley about 5 miles below the put-in, where steep, densely wooded slopes rise up just beyond both banks. The river twists and turns through the small valley almost all the way to the take-out. The lack of development and the dense forest creates a sense of remoteness that may be unmatched by any other river in Wisconsin.
A wide variety of trees fill the surrounding forest. Birch, maple, alder, ash, cedar, spruce, balsam fir, and mixed pine are prevalent. Paddlers will be greeted by an abundance of wildlife; white tailed deer, snowshoe hare, mink, red squirrel, and a variety of woodpeckers are just a few of the species that you may encounter.
The White is one of the premier trout streams in Wisconsin. Although most anglers prefer to fish upstream from the segment featured here. The most popular areas include the South, East, and West branches of the White River before they join to form the main branch, and in the Bibon Marsh, where if you don't catch a large brown trout you are sure to catch a couple dozen mosquito bites.
Paddlers be aware! This is a narrow river surrounded by dense vegetation, and overhanging trees. You must be alert for downfall and strainers!
Season
Water levels are usually adequate for an enjoyable run. Occasionally the White River Flowage is drained at the Highway 112 Dam. When this happens, the river swiftly becomes dangerous and should be avoided. Call Bear Country Sporting Goods in Drummond at 715.739.6645 for water levels before you paddle the river.
River Level Information
Phone Contact for River Info: Bear Country Sporting Goods: 715.739.6645