White River

(WH1) Maple Ridge Road Bridge to Highway 112 Dam
, Wisconsin Trail Guide
Trail Facts
| | |
| --- | --- |
| Distance: | 14.9 miles |
| Skill Level: | Novice |
| Whitewater: | Class II |
| Approx. Paddle Time: | 6+ hours |
| Elevation Drop: | 181 feet |
| Average Gradient: | 12.1 fpm |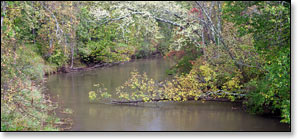 Synopsis
Trail Review
Meandering, twisty, narrow, fast, rocky, and remote; these are commonly used words when describing the float down the White River from Maple Ridge Road to Highway 112. This is a fantastic reach for novice whitewater enthusiasts. Most of the final seven miles are nearly continuous riffles, class 1 and class 2 rapids.
There is almost no development after the first two miles, where the river enters a narrow, densely-wooded valley with steep-sloping ridges rising just beyond both banks. The scenery is beautiful and wild. The surrounding forest is a mix of northern hardwoods and pines which frequently shade high, steep banks often covered in dense brush and thickets. A large number of perennial and seasonal streams enter the White through narrow, deep cuts.
Birch, maple, alder, ash, cedar, spruce, balsam fir, and red and white pine are common in the surrounding forest. The White is home to an abundance of wildlife; white tailed deer, snowshoe hare, mink, red squirrel, and a variety of woodpeckers are just a few of the species that paddlers may encounter.
The upper reaches of the White is one of the premier trout streams in Wisconsin, although most anglers prefer to fish in the clearer waters upstream from this segment. The most popular areas for fishing are the South, East, and West branches of the White River before they join to form the main branch. The Bibon Marsh is another popular spot where brown trout are common.
Paddler's Note
Though this is a highly recommended trip, you should be aware that the river is surrounded by dense vegetation and soft riverbanks, overhanging trees often create frequent strainers and occasional deadfall. This is more of an issue in the upper reaches of this segment, where the river tends to be more narrow and 'quiet'. However, there are almost always open channels to avoid the worst situations.
Camping
Wisconsin State Park Campgrounds
Copper Falls State Park is about a 30 minute drive southeast from the Highway 112 Dam Landing. The family campground offers 56 secluded campsites and a group camp for tent camping (up to 40 people). This is the most scenic gorge and waterfall area in Wisconsin and the Doughboys Trail is featured in this guide.
"Ancient lava flows, deep gorges and spectacular waterfalls make Copper Falls one of Wisconsin's most scenic parks. Log buildings built by the Civilian Conservation Corps in the 1930s add to the park's charm. There is plenty to do; hiking, bicycling, picnicking, fishing and swimming. The North Country National Scenic Trail passes through Copper Falls State Park."
_source: Wisconsin DNR.
Chequamegon-Nicolet National Forest Campgrounds
The Chequamegon-Nicolet National Forest has eight campgrounds within a 40 minute drive of this segment. Seven of the eight campgrounds offer online reservations; Namekagon (34 sites) and Two Lakes (94 sites) are great choices. Both are popular campgrounds located on scenic lakes with plenty of shady, secluded sites.
The five other campgrounds with reservable sites are: Day Lake (52 sites), East Twin (10 sites), Mineral Lake (11 sites), Beaver Lake (10 sites) and Lake Three (8 sites). All of these campgrounds are also located on scenic northwoods lakes. Perch Lake, another popular family favorite, does not offer reservations at this time.

Season
Water levels are usually adequate for an enjoyable run. Occasionally the White River Flowage is drained at the Highway 112 Dam. When this happens, the river swiftly becomes dangerous and should be avoided. Call Bear Country Sporting Goods in Drummond at 715.739.6645 for water levels before you paddle the river.
River Level Information
Phone Contact for River Info: Bear Country Sporting Goods: 715.739.6645