Tomahawk River

(T1) Willow Dam to Swamp Lake Road Access
, Wisconsin Trail Guide
Trail Facts
| | |
| --- | --- |
| Distance: | 11.9 miles |
| Skill Level: | Novice |
| Whitewater: | Class II |
| Approx. Paddle Time: | 5 hours |
| Elevation Drop: | 44 feet |
| Average Gradient: | 3.7 fpm |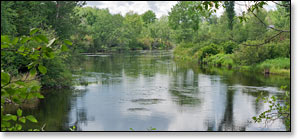 Synopsis
Trail Review
The Tomahawk is an often overlooked gem located in north-central Wisconsin, a few miles south of Minocqua. The river offers an appealing, small-river run where canoers and kayakers will find long stretches of flatwater with occasional riffles and one stretch of whitewater named Halfbreed Rapids, a rocky class II. Most of the river is narrow with a current that varies from slow to medium speeds.
The Tomahawk flows through a widely varying landscape; from dense forest with occasional high sandy banks, to long stretches of lowland marsh and 'stunted' pine, to open savannah and meadows. Even though large portions of the surrounding land is privately owned, most of the shoreline below Willow Dam is wild and undeveloped and paddlers will find a quiet and intimate northwoods setting.
Northern hardwood forests dominate the region. Common trees include sugar maple, birch, oak, white ash, basswood, and hemlock with numerous groves of pine and spruce.
Paddle the river in the morning or late afternoon hours and you will likely see an abundance of wildlife; migrating waterfowl (spring and fall), warblers, chickadees, gray jays, eagle and osprey are common. Deer and beaver are often spotted as well.
Season
Water levels are dependent upon release from the Willow Reservoir Dam. You may call the Wisconsin Valley Improvement Company at 715.848.2976 or the Woodruff DNR office at 715.356.5211 for information. The river levels are categorized as high, medium, or low. Very high levels can sometimes produce dangerous conditions, medium levels are generally ideal, while low conditions can make navigating the rapids difficult.
River Level Information
Phone Contact for River Info: Wisconsin Valley Improvement Company: 715.848.2976
Phone Contact for River Info: WDNR Woodruff Office: 715.356.5211