Pine River

(PN1) "The Oxbow", County N Bridge to WEPCO Landing No. 5
, Wisconsin Trail Guide
Trail Facts
| | |
| --- | --- |
| Distance: | 9.3 miles |
| Skill Level: | Easy |
| Whitewater: | Class I |
| Approx. Paddle Time: | 4 hours |
| Elevation Drop: | 20 feet |
| Average Gradient: | 2.1 fpm |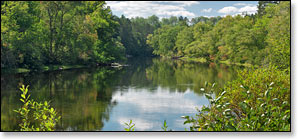 Synopsis
Trail Review
The Pine is a scenic river with very little development along its shoreline. This segment runs through a northern, mixed-hardwood forest of maple, beech and basswood. Occasional stands of tall hemlocks, red and white pine along with birch and quaking aspen canopy the riverbanks. Wildlife is abundant, especially birdlife.
Flatwater enthusiasts will enjoy this stretch. A short pitch of riffles and an easy class I rapids are the only "whitewater" between the Highway N Bridge and the Menominee River confluence. This section of the Pine River is easily accessible and has a very consistent flow.
"The Oxbow" refers to where the river forms a large bend between the County N Bridge Landing and the Oxbow Landing, 3.5 miles after put-in. Locals will drop their canoes and kayaks off at the southern County N Landing then drive the quarter mile north to the Oxbow Landing and walk back down to their canoes. A very easy way to paddle without worrying about a shuttle. This enjoyable and scenic 'short run' takes a little less than two hours paddle time.
Camping
Chequamegon-Nicolet National Forest Campgrounds
The Chequamegon-Nicolet National Forest has three family campgrounds within a 45-minute drive of the County N bridge: Lost Lake, Chipmunk Rapids and Morgan Lake.
Morgan Lake features a quiet, secluded campground next to a small 45-acre lake with 18 individual sites and a shady, reservable group site that holds up to 25 people - excellent for family camping! The group site and nine of the individual sites are reservable.
Lost Lake features 27 secluded sites next to a beautiful 86-acre lake stocked with smallmouth bass, brown and rainbow trout. Chipmunk Rapids offers six sites near the Pine River (far upstream from this segment!). The campground features a unique artesian well that "flows throughout the year and produces excellent drinking water!". The sites at both campgrounds are available on a first-come, first-served basis.
Season
This segment of the Pine is usually navigable throughout spring, summer, and fall. The Pine Dam controls the water flow, which is located 2 miles above the Highway N Wayside Landing. Contact 906.779.2518 for release information.
River Level Information
River Gauge Location: USGS Gauge @ County N Bridge
Suggested Minimum Level: 1.75 feet / 150 cfs
USGS Website: USGS Gauge @ County N Bridge