Manitowish River

(MA1) Highway 51 to Murray's Landing
, Wisconsin Trail Guide
Trail Facts
| | |
| --- | --- |
| Distance: | 20.7 miles |
| Skill Level: | Easy |
| Whitewater: | Riffles |
| Approx. Paddle Time: | 10+ hours / multi-day |
| Elevation Drop: | 17 feet |
| Average Gradient: | 0.8 fpm |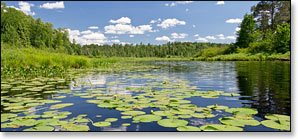 Synopsis
Trail Review
The Manitowish River is an enjoyable trek for quietwater canoeists and kayakers. From its origin at High Lake, the river flows for nearly 44 miles before joining with the Bear River to form the North Fork of the Flambeau River. The 20-mile section featured in this guide is nestled in the northwest corner of the 232,000-acre Northern Highlands-American Legion State Forest.
Paddlers will find mostly flatwater with occasional riffles as you glide by open marsh and lush, northern lowland forest. A large number of sloughs provide excellent opportunities for exploration and bird watching. One of the more popular canoe camping rivers in the state, the river has seven overnight camp areas spread out between Circle Lily Creek and the Bear River confluence.
The frequent wide open spaces of the marshlands immediately surrounding the river make bird watching easy. Warblers, sparrows, finches, thrush, woodpeckers, wood ducks, and hooded mergansers, are just a few of the species that inhabit the riverway in summer. Eagles are also common, you'll occasionally see one of their massive nests in a tall pine near the river. Beaver and otter are often spotted and you'll sometimes see: fisher, white-tailed deer, raccoon, red squirrel, and the occasional black bear.
Between the Highway 51 Landing and Circle Lily Creek, the landscape is a bit drier than the marsh downstream. Majestic red and white pines tower over the riverbanks along with stands of aspen and birch and a few maple trees. After the Wayside Landing the river flows through frequent open wetlands, with scenic stands of spruce and mixed pine occasionally bordering the river but usually set back, giving way to a carpet of berry-producing shrubs, reeds, willows, cattails, and marsh grass. This lowland vegetation is dominant all the way to the Flambeau Flowage.
Manitowish is derived from the Ojibwa name 'Manitous', meaning 'Spirit People'. The river is frequently shrouded in mist during the early morning hours. Oftentimes, when the fog covers the river, the surrounding marsh and forest will be dead quiet, creating a somewhat eerie effect.
Camping
Canoe/Kayak Camping
This segment features seven designated riverside canoe-camps for multi-day trips.
Wisconsin State Forest Campgrounds
The scenic Northern-Highlands American Legion State Forest has several beautiful, shady, lakeside family campgrounds close to the Manitowish River. Camping opportunities include: rustic hike-in tent sites, family tent/camper sites, rv sites with electric, and several group sites. The State Forest also features plenty of recreational opportunities, including: hiking, mountain biking, boating, fishing, swimming in sandy-bottomed lakes and miles of paved bicycle paths.
The Crystal Lake Area reservation system has three popular, modern, family campgrounds: Crystal Lake, Musky lake and Firefly Lake. 307 campsites are reservable. The Clear Lake Area offers 130 reservable sites at two rustic family campgrounds: Clear Lake and Indian Mounds; both offer a large number of shady, secluded sites.
Chequamegon-Nicolet National Forest Campgrounds
Twin Lakes has a family campground with seventeen sites. Seven are reservable. The eleven-acre Twin Lake is noted for trout and panfish. The Round Lake Non-Motorized Area is adjacent to the Twin Lakes campground and features several miles of scenic hiking trails alongside two beautiful northwoods lakes.
The Chequamegon-Nicolet National Forest has several scenic campgrounds located south of the Manitowish River. Emily Lake features eleven campsites next to a 26-acre lake. The primitive Wabasso Lake Campground features three walk-in/canoe campsites on a gorgeous 49-acre lake where gas-powered boats are prohibited. Sites at these campgrounds are first-come, first-served.
Season
Regular releases from the Rest Lake Dam normally produces consistent water levels from spring through late fall.
River Level Information
Phone Contact for River Info: NH-AL State Forest, Trout Lake HQ: 715.385.2727
USGS Website: There is no USGS River Gauge for this segment.