Forest Lodge Nature Trail

Interpretive Trail
, Wisconsin Trail Guide
Trail Facts
| | |
| --- | --- |
| Distance: | 1.2 miles |
| Exertion/Intensity: | Easy |
| Terrain: | Small hills |
| Elevation Gain: | 169 feet |
| Trail Surface: | Dirt path |
| Rocks & Roots: | Moderate |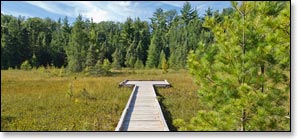 Synopsis
Trail Review
There are 3 loop trails: the Forest Lodge Nature Trail, the Extended Nature Trail, and the Conservancy Trail. This guide covers the Forest Lodge and Extended Nature Trails.
The Forest Lodge Nature Trail is one of the better interpretive nature trails in northern Wisconsin. The trail meanders through a wonderful variety of forest types and habitats including: hemlock groves, hardwood forest, pine forest, stands of birch/aspen, hemlock swamp, an open tamarack bog, and a small experimental prairie.
Hikers should pick up one of the free, 32-page booklets from the small wooden box located near the trailhead. The booklet gives a detailed narrative on each of the 23 stations on the Forest Lodge Nature Trail including descriptions of nearby flora and fauna as well as tidbits and facts about the interesting history of the area. Some of the described topics include: "Old Growth White Pines", Lichens...", "Northern Bog Plants", "Salamanders, Frogs, and Snakes...", and "Woodland Ferns".
Overall, this is a winding and hilly (small hills!) trail with a few short, steep inclines.
More Information
Website: Forest Lodge Nature Trail, US Forest Service
Phone Contact: Cable Natural History Museum: 715.798.3890
Trail Access Fee: Yes, Forest Pass from US Forest Service required. Pay station at trailhead. Daily or annual.