Red Cedar State Trail

Rail Trail
, Wisconsin Trail Guide
Trail Facts
| | |
| --- | --- |
| Distance: | 13.6 miles |
| Route Type: | Point-to-point |
| Terrain: | Mostly flat |
| Trail Surface: | Crushed Stone |
| Exertion/Intensity: | Light |
| Average Grade: | 2% |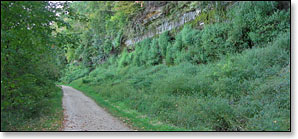 Synopsis
Trail Review
One of Wisconsin's first 'Rail-Trails', the Red Cedar State Trail from Menomonie to County Y offers a pleasant ride through a rural countryside along the scenic Red Cedar River. Bicyclists, walkers, and joggers will find scenic river views, numerous minor rock formations, several railroad trestles, lots of wildlife, and a pair of historical sites. The grade is flat, there are no hill climbs, making this an excellent ride for "seasoned citizens" and families with kids.
The trail is often shaded; oak, birch, elm, aspen are most common with occasional red and white pines, and maple trees. Thick patches of ferns are common, frequently found wherever there's shade. Several different species of wildflowers grow along the trail as well. Occasionally the trail passes corn fields and open prairie.
Look past the fields and you'll have good views of unglaciated hills in the distance. Dense forest covers their steep-sloping flanks which rise suddenly from the surrounding landscape. If you're riding in the morning or late afternoon you'll likely see an abundance of wildlife including: white-tailed deer, raccoons, chipmunks, and many different species of birds. Wherever there are open fields you'll hear plenty of crickets.
You'll often have unobstructed views of the Red Cedar River, which frequently flows within a few feet of the trail. A large trestle over the river, just north of Downsville, is a scenic highlight. Another highlight is a tiny waterfall near the south end of the trail. If you're doing an "out-and-back" from Menominee, this is a nice location to stop, rest, and turn around.
The former rail line was used to transport stone from local quarries that operated in the area from 1880 through the 1950's. Today, visitors will find two historical sites along the trail south of Downsville that detail some of the work that went on here. One site is named the 'Downsville Cut', and features a 40-foot high wooden derrick that was used to load cut stones onto railroad cars. A little farther south, a second site features a pile of 'cut' stones stacked to form a small arch. A nearby info-kiosk displays pictures and articles about some of the history of the local area.
The Red Cedar State Trail is managed by the Wisconsin DNR and is part of the Chippewa Valley Trail System. The CVTS includes three interconnecting trails totaling almost sixty miles: the Old Abe State Trail, the Chippewa River State Trail, and the Red Cedar State Trail. The trails connect the communities of Cornell, Chippewa Falls, Eau Claire, and Menominee, along with several smaller towns and villages.
Trail Surface and Grade
The trail surface is hard-packed, compacted stone and is mostly solid and level. Occasionally you'll ride through short stretches of shallow, loose, sand. These sandy stretches usually last for only a few yards. Smooth and easy riding for the most part. The trail has long, flat, straight stretches. Hills and steep gradients are absent.
More Information
Website: Red Cedar State Trail (Wisconsin DNR website).
Phone Contact: 715.232.1242
Trail Access Fee: Wisconsin DNR State Trail Pass required, daily or annual. Keep with you while on the trail.