Bearskin State Trail

Rail Trail
, Wisconsin Trail Guide
Trail Facts
| | |
| --- | --- |
| Distance: | 18.4 miles |
| Route Type: | Point-to-point |
| Terrain: | Mostly flat |
| Trail Surface: | Compacted Granite |
| Exertion/Intensity: | Light to moderate |
| Average Grade: | 2% |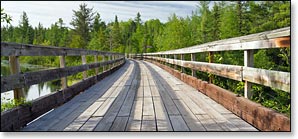 Synopsis
Trail Review
The Bearskin State Trail - part of the Wisconsin State Park system - is one of the most scenic rail-trails in northern Wisconsin. During the summer, the trail is mainly used by bicyclists but is also open to joggers and walkers. Bicyclists will find a wonderful, shaded ride through a beautiful northwoods forest of pine, spruce, oak, maple, elm, and birch. This scenic trail features: lakes, creeks, natural springs, several spruce/tamarack bogs, and plenty of wildlife. Development along the trail is limited. The grade is mostly flat with one small hill climb. This is a fun, scenic ride suitable for families and folks of all ages.
The trail is named for Bearskin Creek, which flows alongside the southern portion of the trail. The entire eighteen-mile corridor runs along a former rail line that was built in the 1880's to transport pine logs from nearby logging operations south, to the large cities. There are several historical sites along the trail with more than a dozen interpretive signs that offer brief descriptions of the history of the railroad and the local area.
The north trailhead rests on the shore of Minocqua Lake near downtown Minocqua. Nicknamed the "Island City", Minocqua is one of the most beautiful and popular vacation destinations in northern Wisconsin. The surrounding area is inundated with literally hundreds of gorgeous lakes and lake-chains. Besides bicycling, outdoor recreational opportunities include: camping, hiking, mountain-biking, canoeing, kayaking, boating, and fishing.
Bicyclists riding the Bearskin Trail will find several bike shops in Minocqua that provide rentals, repairs, parts, and retail sales. If you're hungry there are several restaurants within a short distance from the (Minocqua) trailhead, several with casual lake side dining.
Camping and Resorts
There are a large number of hotels and resorts in and around Minocqua and several family campgrounds are located in the nearby Northern Highland–American Legion State Forest.
Trail Surface and Grade
The trail surface is hard-packed, compacted granite and is mostly solid and level. Occasionally you'll ride through short stretches of shallow, loose, sand. These sandy stretches usually last for only a few yards. Smooth and easy riding for the most part. The trail has long, flat, straight stretches. Hills and steep gradients are absent except at the "Pollnow Bypass", a small hill where the incline and decline are paved.
More Information
Website: Bearskin State Trail, (Wisconsin DNR website).
Phone Contact: 715.536.8773
Trail Access Fee: Wisconsin DNR State Trail Pass required, daily or annual. Keep with you while on the trail.