Chippewa Moraine Ice Age Reserve

The Circle Trail
, Wisconsin Trail Guide
Trail Facts
| | |
| --- | --- |
| Distance: | 4.7 miles |
| Exertion/Intensity: | Easy |
| Terrain: | Rolling hills |
| Elevation Gain: | 690 feet |
| Trail Surface: | Dirt path |
| Rocks & Roots: | Occasional |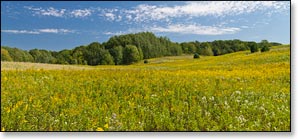 Synopsis
Trail Review
The 3,800-acre Chippewa Moraine State Recreation Area is one of nine units of the Ice Age National Scientific Reserve in Wisconsin. The Reserve sits astride a short segment of the Ice Age National Scenic Trail a few miles north of Chippewa Falls. Visitors will find a beautiful landscape with a very unique geologic history. It is considered by many to be the best place in the world to see a landscape formed by both active and stagnant glacial activity from thousands of years ago.
The landscape at Chippewa Moraine was formed by a small segment of the last giant glacier to cover Wisconsin named the Chippewa Lobe. Here, a stagnant glacier was crushed and ground up by another active glacier that was still advancing south from Canada. At the same time, the global climate was warming to the point that the glaciers in this region were melting as fast as they were advancing.
The result of the glacial activity formed the landscape you see today; more than seventy kettle lakes and ponds surrounded by hummocks, ice-walled lake plains, eskers and kames. In "layman's terms", visitors to the Reserve will find a beautiful north-central forest landscape of: open prairie covered in tall grasses and colorful wildflowers, gently rolling hills, mixed hardwood forests of oak, maple, aspen, and pine, and dozens of scenic lakes and ponds.
The Chippewa Moraine marks a small segment of the southernmost advance of the Chippewa Lobe.
The Circle Trail
This guide focuses on the Circle Trail, a beautiful 4.7 mile loop through a varied landscape of a mixed hardwood and pine forest, rolling hills, scenic lakes, and open fields covered with wild flowers. Please download the Trail Guide (PDF) for a detailed description of the trail!
Ice Age Intrepretive Center
The Reserve also features an Ice Age Intrepretive Center where visitors will find displays that feature mammal skeletons, live reptiles, amphibians, and fish, as well as an entire room filled with interactive exhibits about the glacial and human cultural history of Wisconsin and the surrounding region. There are racks of books, pamphlets, and image cards that illustrate and describe the geologic history of the area and identify the various plants and animals found in the Reserve. There is also a movie room where visitors may choose from a large selection of short educational films to watch. The Interpretive Center sits atop one of the highest hills in the Reserve which geologists call an 'ice-walled-lake plain'.
The Intrepretive Center is a fun and interesting educational experience with plenty of hands-on interactive activities. The center is staffed year-round and you will find the staff to be friendly, helpful, and knowledgeable.
The Interpretive Center is open year-round from 8:30am to 4:30 pm daily.
More Information
Website: Chippewa Moraine State Recreation Area
Phone Contact: 715.967.2800
Trail Access Fee: Yes, WDNR Vehicle Admission Sticker or Day Pass Required.